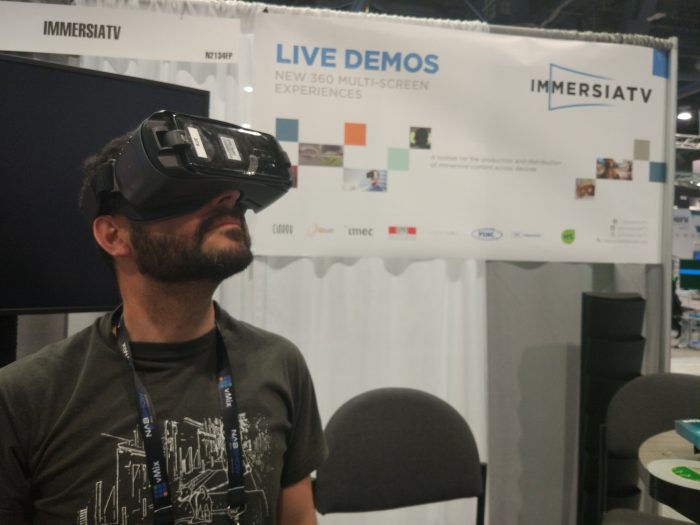 Optimistic impressions after the NAB Show
The ImmersiaTV team has participated for the second time at the NAB Show 2018, one of the most important international events of the broadcast field. The exhibition was held last 7th-12th April at Las Vegas convention center. The project was present at the Futures Park, the section of the Show reserved for presentations of media-related research and development projects from around the world that represent today's global edge-of-the-art media technologies.
The representatives of the project were Gregg Young from VRT (Belgium), Simon Delaere from IMEC (Belgium) and Juan Antonio Núñez from i2cat (Spain). Young, Delaere and Núñez agree that the project attracted visitors interest, even though their stand was in a less busy zone than where the big industries were. The majority of the people that approached the stage had a direct interest in immersive experiences and, generally, were impressed with the solution, since they understood the objective of the project and its value.
This experience has been an excellent opportunity to assess the project effort in the US broadcast market, which is considerably different from the European one. The researchers could also see that the evolution of the project and the strategic decisions made during these years are aligned with the market demands and with the most innovative projects presented at the fair.
Overall, it was a perfect occasion to figure out, from a strategic point of view, if it's possible to transform a research project into a profitable product.