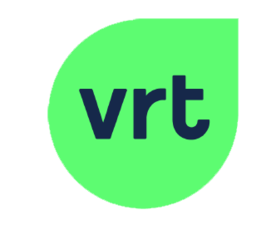 The Vlaamse Radio- en Televisieomroep (VRT) is the public broadcaster of the Flemish Community in Belgium. Its mission is to reach the largest possible number of viewers and listeners with a diversity of programs that arouse their interest and fulfill that interest. To accomplish this, VRT owns 3 TV channels (Eén, Ketnet, Canvas), 5 radio stations (Radio1, Radio2, Klara, Studio Brussel and MNM) and 3 web portals (deredactie.be, sporza.be and cobra.be). VRT has been active in research and innovation projects with a dedicated lab for research activities for over a decade. This lab is currently called VRT Research & Innovation. VRT Research & Innovation (VRT R&I) carries out research into the creation, management, distribution and consumption of media content. It works on medium-term research projects with Flemish as well as international partners. Within these projects the lab develops proof of concepts which are intended to generate new insights.
The VRT R&I lab consists of an independent team of 15 highly qualified researchers with a large expertise in many facets of media production and media management. The lab has an independent multidisciplinary team of 15 highly qualified researchers with an expertise in many facets of media production and media management. This team is often extended with VRT professionals from both the creative and technical operation domain creating a bridge between research project and the production floor. Investigation and exploration of novel digital storytelling formats is seen as a strategic challenge for VRT. As such it is also one of the main research domains on which the R&I team is working today. Other key objectives of VRT R&I include to research creative and efficient multi-platform content production workflows and tools, and to investigate added-value content personalisation scenarios.
VRT will be mainly involved in the following tasks:
Identification of user requirements (professional, end user)
Content ideation of novel immersive format, refinement of use cases for immersive and interactive content formats;
Development and integration of story creation and pre- and post-production tools for content professionals
Requirement analysis
Content creation: define, establish, test, evaluate and demonstrate the creative and technological end-to-end workflow for immersive stories and produce the innovative immersive content
Demonstration pilots: define, create, test, produce, evaluate and refine the use cases for the immersive pilot experiences
VRT will also play a key role in bridging the technological and creative challenges.