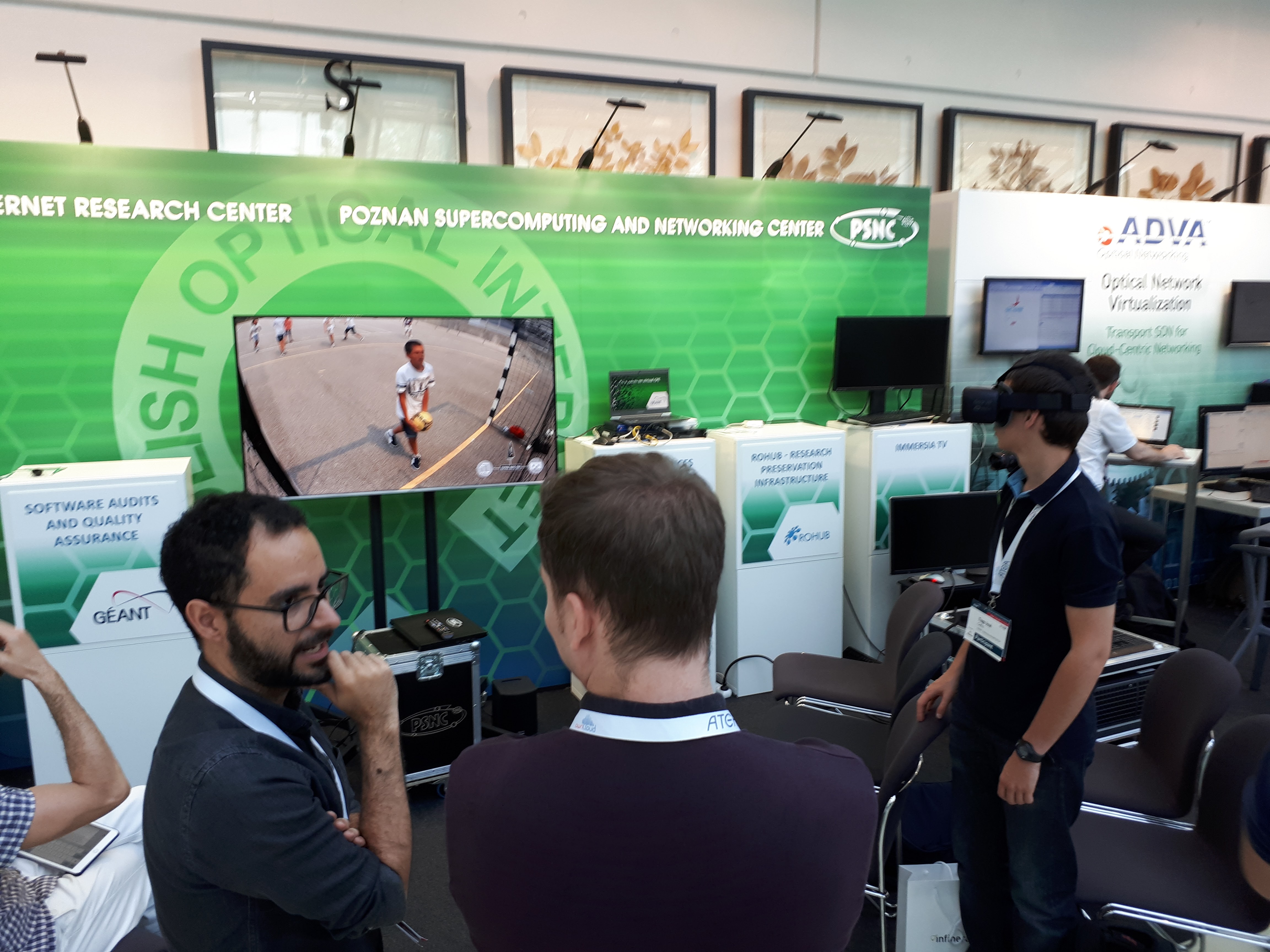 Impressions after the TNC 2017
After an intense week in Linz, ImmersiaTV is back to work with very good impressions after the TNC 2017.
The TNC17 (which stands for Terena Networking Conference) is one of the most prestigious European research networking conferences. This year the conference took place in Linz (Austria), a city with great traditions of culture and arts communities.
This year, more than 650 participants of the conference had an opportunity to hear about the new network, communications and multimedia technologies. Among the interesting topics discussed during the conference, ImmersiaTV had a relevant presence with its demonstrations. The demo shown enables immersive experience around TV and lets users enjoy the omnidirectional second-screen technology using mobile devices or VR glasses (HMD). The ImmersiaTV project was presented and demonstrated by two partners: I2CAT, which is the coordinator of the project and the Poznan Supercomputing and Networking Center (PSNC). Both institutions play an active role in the system design, implementation and demonstration activities. The idea of the collaborative demonstration this year was to present not only off-line use case, but also introduce the first elements implemented for broadcasting immersive content in a live scenario, which will drive the second pilot of the project.
The main demonstration of the project was focused on showing the off-line production tools, as well as further distribution chain from the content server up to the client devices. Attendees at the conference were able to enjoy immersive experience around TV on different synchronised mobile devices such as tablets, mobile phones and HMD. During the breaks and two dedicated demo sessions, the representatives of the ImmersiaTV project, Juan Antonio Nunez from I2CAT and Maciej Glowiak from PSNC introduced the project, current results and future plans. They presented the workflow, production tools and two client applications (both: Unity 3D player and web player). Visitors enjoyed the documentary "Dragon Force" produced by LightBox for the first pilot of the project, as well as the new offline content, a football match recorded with 4 omnidirectional cameras, which added new interaction features.
The audience gave very positive feedback to the project and the latest achievements made by the partners. Besides the technical ones, most of the questions from the audience were related to the date of the final delivery of the product, which demonstrates the interest of the broadcasting industry to deploy new services using VR and immersive technologies. Additional comments gave relevant inputs for future developments that will be taken into consideration in the next phases of the project.
As a result, more than 100 people watched the presentations, enjoyed demos, or had specific technical questions. Moreover, ImmersiaTV was invited to further demonstrate its progress in future events.
[slider_image image_1="804,large" image_2="801,large" image_3="803,large" image_4="800,large" image_5="799,large" height="500″]