IMMERSIATV PUBLISHES A UNITY3D PACKAGE THAT ENABLES USING ANY MEDIA AS A 3D TEXTURE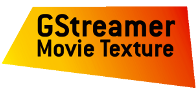 IMMERSIATV PUBLISHES A UNITY3D PACKAGE THAT ENABLES USING ANY MEDIA AS A 3D TEXTURE
As a result of the ImmersiaTV project, i2CAT has published a free asset package for the Unity3D Game Engine that allows developers to use media as movie textures. Internally, the package uses the open-source GStreamer framework, which supports almost every media type (audio and video), and streaming using multiple network protocols. The current implementation of the package supports Windows and Android platforms.
The plugin is available at the Unity3D Asset store and has only received good reviews so far.
This video shows the potential of this new feature for Unity3D.
Play any media inside a texture using the power of GStreamer:
– Local or remote (streaming) media
– Audio and Video
– Plays almost every format and codec
– Supports multiple network protocols
– Currently supported platforms:
• Windows (32 and 64 bits)
• Android
– Not yet supported platforms:
• Linux (32 and 64 bits)
• OSX
• iOS
Requires Unity 5.3.4 or higher. Playback provided by the GStreamer framework, version 1.8.
Codec license warning: This package contains the complete set of plugins available for GStreamer, to ensure maximum playback capabilities. This means that some patented codecs (like H.264 or AAC) are also included. Please, make sure you understand the legal implications before releasing software using this package. Read this, for example.
Acknowledgement:This package has been created within the ImmersiaTV project. This project has received funding from the European Union's Horizon 2020 research and innovation programme under grant agreement 688619.