DRAGON FORCE – The Making of Future Heroes
This documentary follows the daily life of David, a young Portuguese athlete who joined Dragon Force, FC Porto football school, to pursue his dream of becoming a successful football player. During his busy, hard-working days, the documentary presents his family, his friends and the dedication of this 14-year-old dreamer. It has been shot combining omnidirectional and traditional video to give you a literal inside view of what it takes to be a professional football player.
Which devices do I need to watch the documentary?
In order to watch the documentary, you need a computer to start playing the traditional video. After that, you can use an Android smartphone and/or tablet to experience an additional 360º view of the documentary, being able to freely look in around in 360º scenes. You can put your smartphone in a pair of VR goggles to enjoy a fully immersive experience.
Before starting, double check the recommended requirements to run the demo:
Phone: Android smartphone (model not older than 2016, Android 6.0 or superior, Processor Snapdragon 820 or equivalent, at least 3GB RAM and WiFi)
Tablet: Android tablet (model not older than 2016, Android 6.0 or superior, Processor Snapdragon 820 or equivalent). Similar features than for the Samsung Galaxy Tab S2.
Computer: Windows (32/64 bit)
VR goggles: You can use any stand-alone type of cardboard or plastic VR goggles (for example the Google Cardboard) in which you can easily put your smartphone.
On the PC, it is recommended to use Google Chrome Browser. On the tablets/smartphones, it is necessary to use Google Chrome Browser.
IMPORTANT: All the devices to be used need to be connected to the same WiFi or mobile network.
To be able to watch the content on your smartphone or tablet, you will need to scan a QR code with your phone or tablet. You can find many free QR code scanner applications in the Google Play app store. Don't forget to download such an app before you start watching the video!
Instructions on how to watch the documentary:
Start playing the video on your computer by clicking on this link.
It is time to add more devices. While watching the videos on your PC, you can additionally watch extra 360º scenes on your tablet and/or smartphone. For this, you need to make use of an app to scan the QR codes shown at the bottom of the screen to watch the contents in "tablet mode" or 'VR mode'.
If you will put your smartphone in VR goggles to have a fully immersive experience, scan the VR mode.
If you will use your smartphone without VR goggles (use your smartphone as a 'tablet'), scan the tablet mode.
You can use multiple devices at the same time!
There is a control button in the media player to show and hide the QR codes.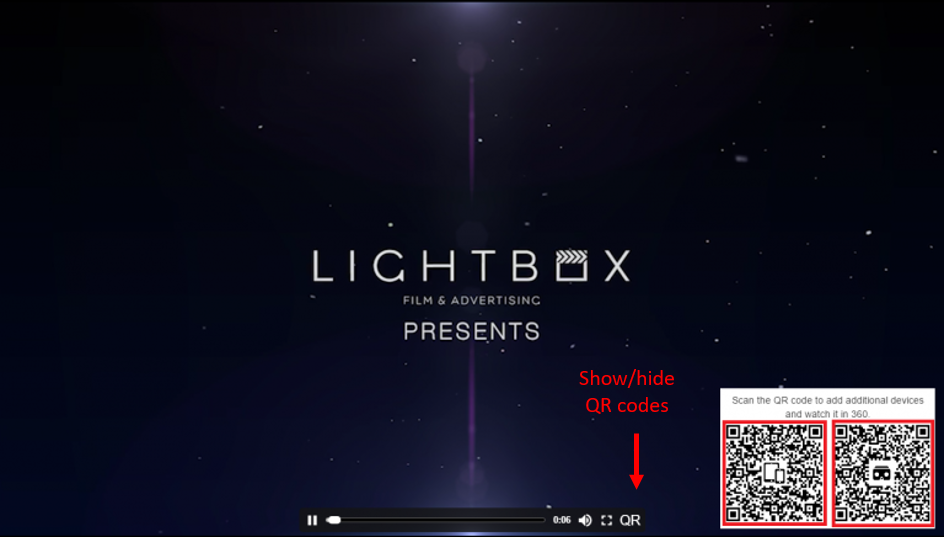 Once you finish to watch it, a questionnaire will show up in which you can let us know what you liked (and didn't like) about the documentary and the experience itself. It would be great if you fill in this questionnaire, so we can keep on creating better immersive experiences. You can also go directly to the questionnaire via this link.
Finally, if you wish to watch it again, simply choose the content. If you wish to watch other contents, click here to check the available ones.
Do you have any questions?
Send a quick mail to paulien.coppens@imec.be